In this guide, you'll find all the different types of garden hose fittings that are specially designed for garden hoses. There are many other fittings designed for hoses for car radiators, chemical laboratories and so on.
We will be taking a look at the different materials and different pros and cons of each type of material. Each fitting serves a different purpose but the general idea is to help you save water, or expand the length of your garden hose.
Learning about the different kinds of hose fittings will help you a lot in the long run. If you break you hose you can repair it by simply buying a few hose fittings for a few dollars, rather than replacing the entire hose. The main objective here is to help you learn which hose fittings to use and which to avoid.
Knowing the different types of garden hose fittings will give you a sense of what type may be appropriate for your use around the home. This article can serve as a starting point from which you can find additional information on a type of hose fitting that you may be interested in.
Brass Hose Fittings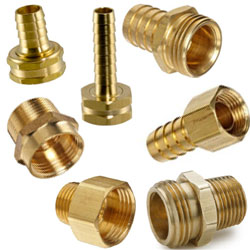 Solid brass hose fittings are among the most popular because they are designed to last. These style of fittings are heavier because they are made of solid brass and they are also more expensive. You will find that all brass fittings come in either male or female adapters.
The solid brass fittings don't work well with the expandable hoses because they are meant for larger rubber hoses.
A male adapter has the threading on the outside of the hose fitting. A female adapter has the threading on the inside of the hose fittings. You will need a variety of both female and male adapters when repairing or extending your garden hose.
Brass hose fittings can be found at any hardware store or amazon and are all pretty reasonable in price. Although they are the most expensive style of hose fitting, solid brass is considered very safe to run your water though.
You want to pay special attention to the material of the hose fitting because you will be running your water through it. If it contains toxic materials then it's not very good to us.
Plastic Hose Fittings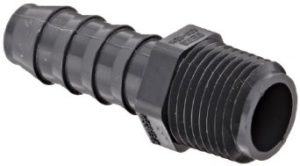 Similar to the brass hose fittings plastic hose fittings serve the same purpose and it is not much different. They are less expensive and will not last as long as solid brass.
The plastic is very heavy dirty and designed to withstand very high water pressure and they are perfect for everyday home use.
If you have solid brass hose fittings you can use the plastic connectors to replace the brass and they will serve the same purpose.
Many people don't like them as much because the plastic can leach toxins into the water especially if it's an unknown type of plastic.
Nylon and Polymer Hose Fittings
Nylon and polymer hose fittings are a little more expensive than plastic but cheaper than solid brass. They are a bit more durable than plastic hose fittings and less durable than brass.
These polymer materials are considered by many to be the healthier choice, as opposed to plastic which can be very unhealthy. The polymer hose fittings are custom made and fit perfectly and the plastic are done less so.
The other great thing about the nylon fittings is that they are very inexpensive and very lightweight and solid. They are more expensive than plastic but are designed to last for years.
So there's no need to find new ones simply purchase several and use them when you need to and save money over the solid brass fittings.
Knowing How Tight to Attach Hose Fittings