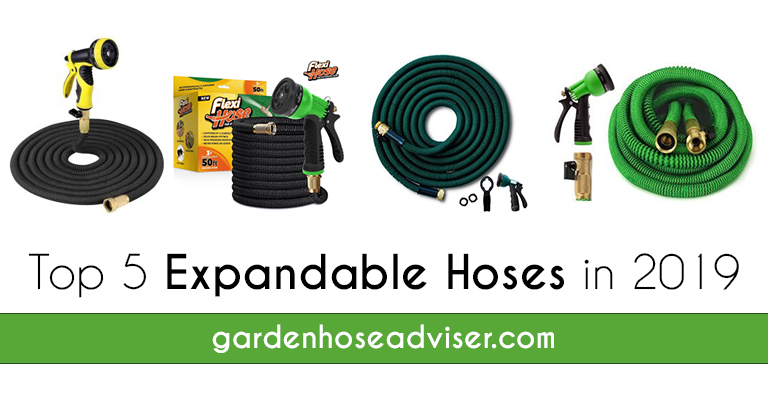 Top 5 Expandable Garden Hoses for 2023
With so many expandable hoses out there, it can be difficult to find the best one. In this review we went over everything you should pay attention to before purchasing an expandable hose. We explore the history of the expandable hose and look at all the pros and cons, compared to the tradtional garden hose.
After reading this, you should be an expert on expandable hoses.
Getting an idea of the hose materials and how they work will go a long way in helping you find the best expandable garden hose. So, let's take a look at our top 5 picks and see what makes them stand out.
#1

FlexiHose Upgraded Expandable 50 FT
After reviewing every metal garden hose currently on the market, the Flexi Hose Upgraded Expandable Garden Hose is the expandable hose of choice this year. This list of best expandable garden hoses get's updated often as new hoses come out. They are constantly making improvements to the design, since this is a relatively new technology.
What makes this expandable hose stand out from the rest is the great customer service. I have bought most of the garden hoses that I review and given them to friends and family. I have not had a lot of problems with most of them because I use several and garden hoses and don't use any one hose all the time. This will probably not be the case for most people.
The customer service with this company seems to be one of the best out there, which is why I will be ranking this hose at #1 on the list. The product is comparable to many of the other expandable garden hoses but the customer service puts this hose above the rest. For a more detailed look, check out the Flexihose Review, where we test it out and go into.
The great thing about the FlexiHose is that it comes with a lifetime warranty. Many of the reviews on Amazon are very positive because the hose may have malfunctioned but if it does they will replace it for free.
#2

VicTsing – Expanding Hose Review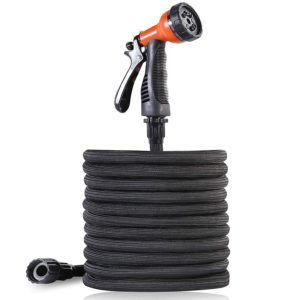 The VicTsing Expanding Hose is the #1 Best Seller on Amazon, so I thought I would do a review and see what we could find. This hose has many complaints about leaking and kinking, which is rare when it comes to expandable garden hoses.
It's also smaller than advertised if you don't have enough water flow it will only grow up to 20-30 feet, according to some reviews.
The best thing about this hose is that it uses 100% all natural rubber latex which is safe for you to drink. Other than that it looks like a poor choice for a replacement or first time user. They do offer a 45 day money back guarantee, which is good if you don't like it or it breaks.
For a more detailed look, check out the VicTsing Expanding Hose Review, where we test it out and go into.
The VicTsing Expanding Hose is one of the best 100% natural latex hoses on the market. It doesn't come with a hose nozzle but most people don't use those anyway, so it's not a big deal. The length is 50 feet and includes a 45 day money back Warranty.
#3

1byone Flat Expandable Garden Hose Review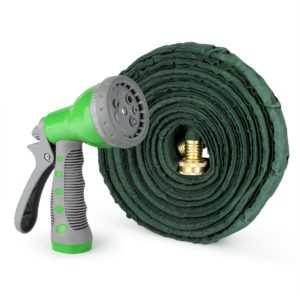 The 1byone Flat Expandable Garden Hose has a unique flat design, unlike most other expandable hoses. It is one of the few expandable hoses on the market that doesn't kink or tangle and comes with a great garden hose nozzle.
Reviews have been overwhelmingly great, and most people love this hose. Overall it's a very professional hose with solid latex and PVC interior that will work well in all weather conditions.
The 1byone Flat Expandable Garden Hose has gotten great reviews and everyone who owns one seems to love the flat design. It's one of the only hoses on the market that's flat. This flat design allows for less kinking and tangling and I expect to see many more hoses coming out in the future that use a flat design.
There haven't been many complaints with the 1byone Flat Expandable Garden Hose. It only comes in 50 feet of hose, so if you want a hose that's longer you're going to have look for a different brand.
#4

Josy&Co Expandable Garden Hose Review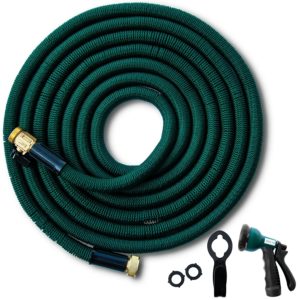 After watching several videos of this hose in action I really liked it. It doesn't specify the PSI anywhere on there homepage, so one of the problems I had with it is that you don't know the water pressure.
Most people have not complained about this and the water pressure seems to be fine. Overall I would consider this expandable hose one of the best on the market and if you're going to buy it be sure to watch all the videos first.
The Josy&Co – Expandable Garden Hose is another great expandable hose and has amazing reviews. It does only come in 50 foot designs, so if you need something longer you will need a different hose. The material is 3-layer latex and very good at stopping leaks and good at not kinking. One of the best hoses on Amazon with the most amount of positive reviews.
The Josy&Co Expandable Garden Hose comes only in a 50 foot design, so if you need something longer you will have to look at other hoses. The material is strong 3 layer latex and out of 100 reviews only one or two people have complained of leaks.
The other biggest complaint would have to be the lack of water pressure. If your garden hose faucet is not high enough in PSI you might have a slight issue.
#5

Plusinno – Expandable Garden Water Hose Review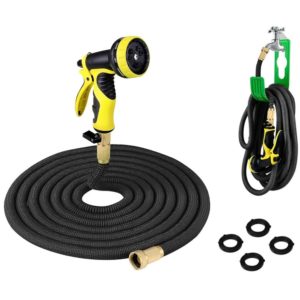 For the most part this expandable hose works as advertised. They are not very specific regarding the inner workings of this hose. The material is somewhat of a mystery. It can be a bit difficult to expand all the way without a lot of water pressure.
If you don't have very high water pressure it won't expand to the full length. The hose is very good quality and doesn't leak or kink. The hose nozzle is great and the price is great as well.
Many of the expandable hoses only come in 50 foot designs. This is because after 50 foot of house there tends to be issues with water pressure and they become more prone to leaking and kinking.
With the PLUSINNO Expandable Garden Water Hose many people LOVE the 75 foot model and it's one of the only expandable hoses to go up to 75 feet.
The PLUSINNO Expandable Garden Hose is one of the best long hoses. If you need something over 50 feet then this is your best choice. Hardly any complaints regarding kinking, water pressure, or anything else.
#6

GrowGreen – ALL NEW Garden Hose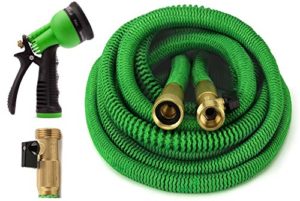 The description for this hose is not very specific on the materials used. It says, 'latex' which could mean natural or synthetic. It also doesn't specify if it's one or two or 3 layers of inner latex tubing. The reviews were good for this hose, with over 800 reviews and many of them positive.
It has a good PSI rating and comes in a few different colors with a length up to 75 feet. The price is good and maybe that's why it's so popular.
The GrowGreen ALL NEW 2017 Garden Hose is Amazons #1 pick and is one of the most reviewed hoses on Amazon. About 90% of people are happy with it and it's great because it comes in several different lengths and colors. Similar to the PLUSINNO Expandable Garden Water Hose in just about every day but it does cost a few dollar less.
The GrowGreen ALL NEW 2017 Garden Hose doesn't have many negative reviews. Every hose material will rupture given the right circumstance, so that's nothing new. Many people claim that it's not the advertised length when water flows threw it.
What Is An Expandable Hose?
Over the past several years the expandable hose has become an attractive option for many people BUT there have been many complaints. In this review, you'll learn what to watch out for and see which expandable garden hoses are worth buying.
Not much has changed in the garden hose industry over the past year. The introduction of several new high quality metal garden hoses and a few new expandable hoses, all of which I have tried my best to try out for myself. 
When looking for the best expandable hose we compared different outer and inner materials to see how they differ.
Several thousand years ago the Greeks used the intestines of animals to create the first expandable garden hose.
However, they didn't use it to water their gardens…
They used it to spray the mysterious "Greek fire" at their enemies on ships in battle.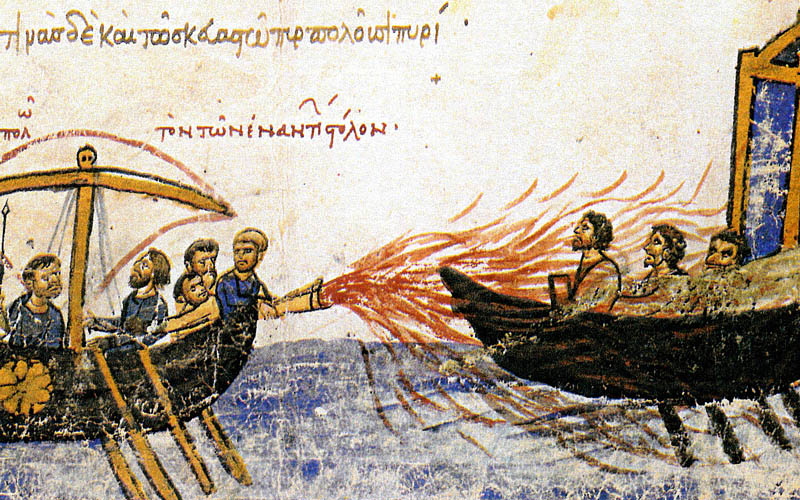 They didn't have the technology to create rubber or latex, but this version of expanding hose worked well. Now, the need to spray enemies with flaming liquid is over and we use the expandable hose to water our garden, wash your car, and clean our pets.
Over the past several years, the expandable hose has become an attractive option for many people but there have been many complaints. In this review, you'll learn what to watch out for and see if there are any garden hoses on the market worth buying.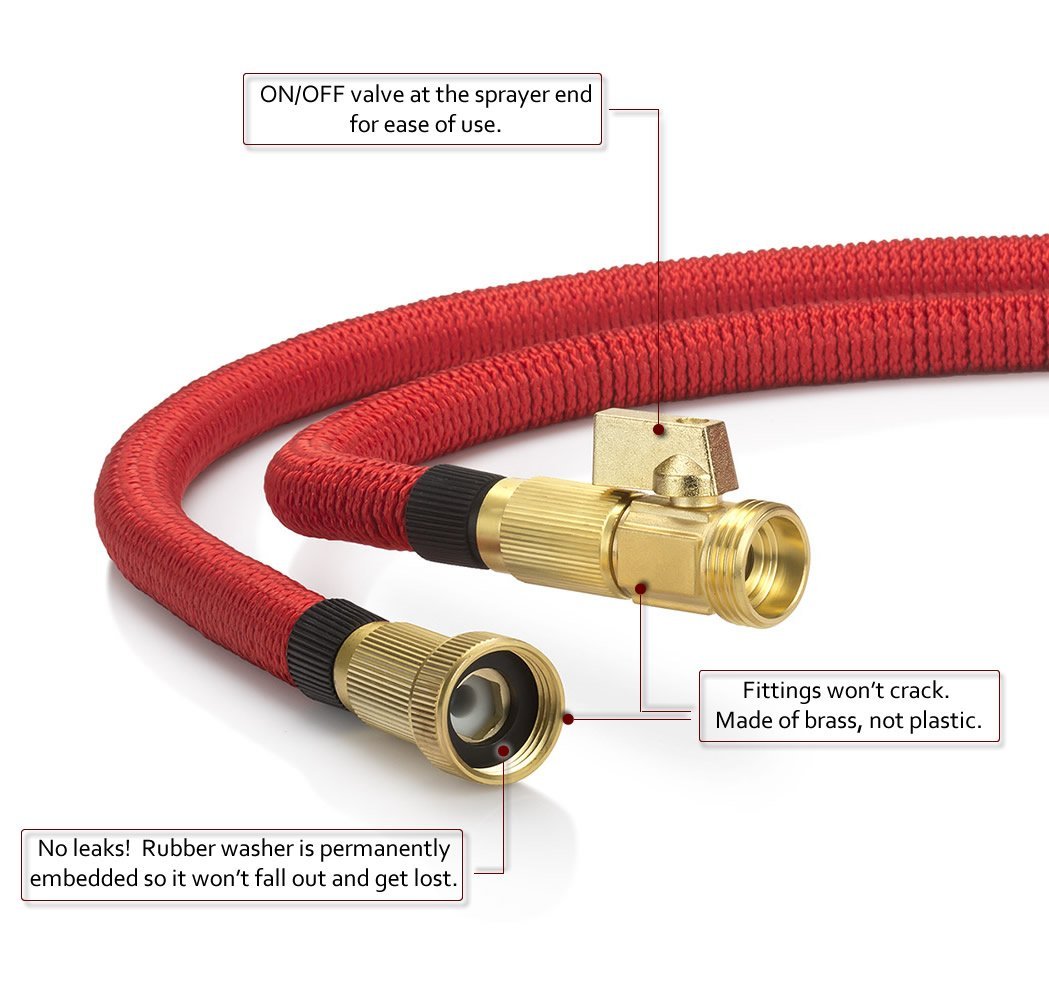 The outer covering of expandable garden hoses is a durable fabric or material that is more likely to tear if you don't care for your garden hose carefully.
The interior is triple layer latex tubing which can expand and contract to up to 5x it's normal size.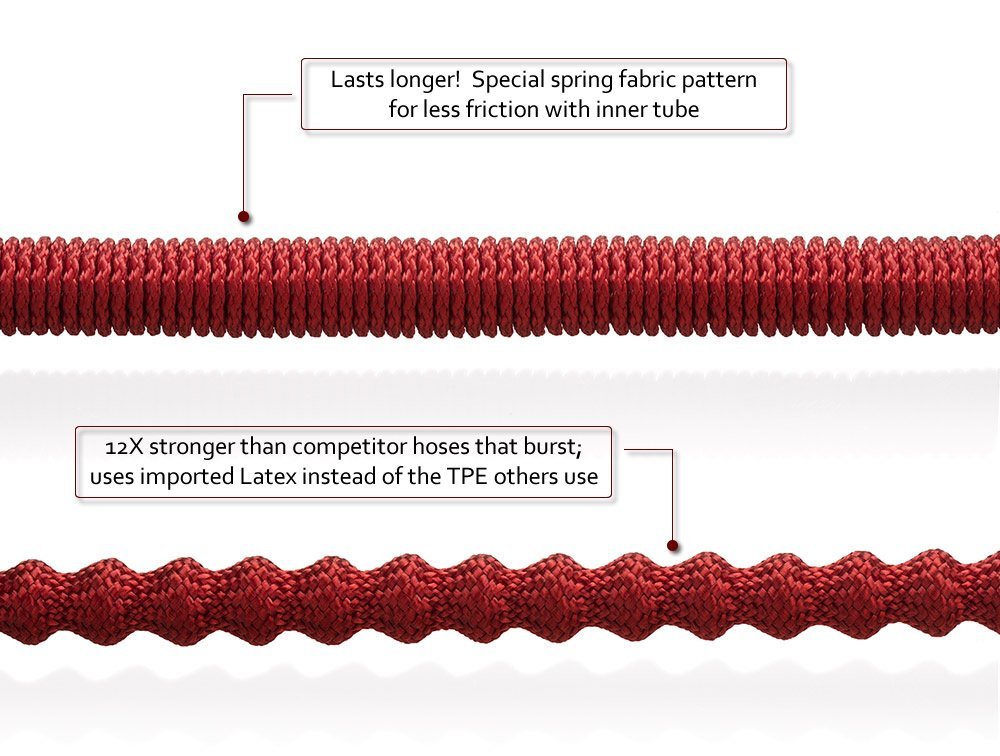 Making the expandable garden hose extremely lightweight and flexible.
They also have the added benefit of being longer than most regular rubber hoses. With a 50-foot expandable garden hose, you can expand it to 3x it's length and cover over 150 feet of area.
The flexibility and cost of this style of hose makes it an attractive option for many homeowners. There are claims of them that say they never kink, never twist and self-drain. Are these claims valid? After watching many videos of the expandable garden hoses in action, we will tell you what we found out.
How safe are they for your plants?
The vast majority of expandable water hoses use a lightweight polyester cloth exterior. The best quality expandable hose will have an inner material is latex, with either 2-core or 3-core AND there's a big difference between synthetic and natural latex.
The safest and and highest quality drinking water hose for your plants that we have found is the Camco drinking water hose, which has been BPA tested and safe for drinking and is NSF certified but hoses such as this are not without there flaws. They are prone to kinking and punctuing but they do seem to be safer for your garden if you plan to grow an organic garden.
Choosing a cheap expandable water hoses can possibly harm your plants and anything else that drinks from the water that comes out of the contaminated inner tubing. These lightweight and inexpensive materials are the reason why this style of garden hose has become so popular. You're paying half the price of a regular garden hose and getting the same results.
How Does an Expandable Hose Work?
The expandable water hose is made up of two layers, the outer material and the interior latex. All expandable hoses have an interior of latex. This is because latex is the only material that can expand to 5x its size.
If you have ever run water through a regular rubber garden hose, you'll notice that the size of the hose does not expand. Rubber is not designed to expand and rather is intended to withstand cold and hot weather, as well as wear and tear from sharp objects such as rocks and bricks.
When the water is turned on with a high PSI is flows through the latex causing it to expand.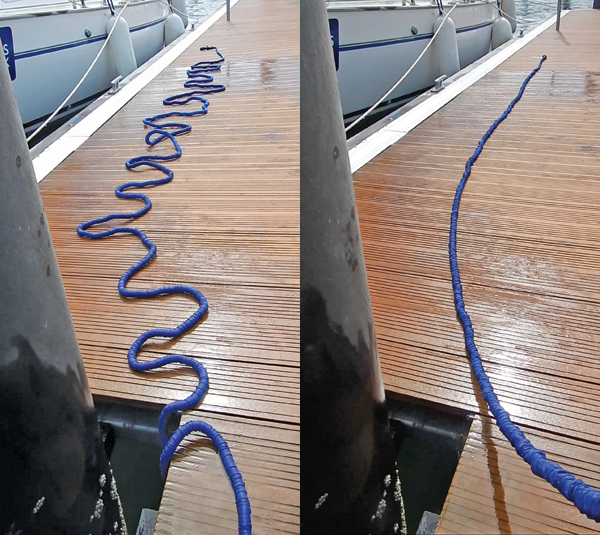 Most materials do not expand very well and adding high water flow through materials not meant to expand will most certainly cause them to burst or leak at the faucet.
With expandable hoses, you have neither of these problems because the latex core is designed to expand. So, let's take a closer look at this latex core and see what makes it so unique.
Expandable Water Hose Materials
When looking for the best expandable hose we compared different outer and inner materials to see how they differ.
The vast majority of expandable water hoses use an outer polyester cloth with a denier count of 3000 – 5000.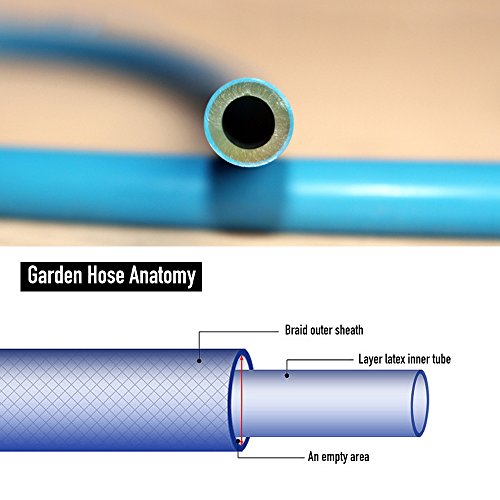 The inner material is latex, with either 2-core or 3-core.
Outer Expandable Water Hose Material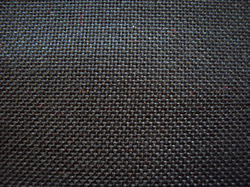 You'll find that all expandable hose outer materials are made of polyester woven fabric. This material is measured in Deniers, which is a unit of textile measurement that determines the strength of the fabric. One strand of silk is approximately 1 Denier.
The higher the denier count of the fabric the more prone it will be to ripping, puncturing and exposure to direct sunlight. The majority of expandable garden hoses that you will find use 5000 Denier woven casings, so there isn't much need to get into the specifics.
You will often find a hose that doesn't tell you what the fabric is made of and these are usually re-sellers that don't know the denier count of the outer polyester fabric.
Inner Expandable Water Hose Material
L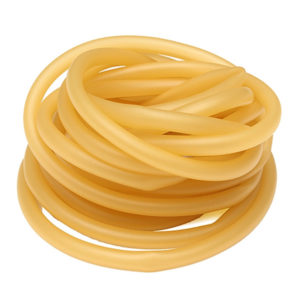 atex is the material you will find in all expandable garden hoses. Usually, it will have 2 or 3 cores because latex tubing by itself is not very durable. The process works by dipping the latex into a rubber-like material to harden the exterior of the latex.
It's important to keep the latex tubing flexible for it to expand and contract several thousand times throughout the life of the tubing.
Natural Latex vs. Synthetic Latex
Latex is a natural liquid that derives from the sap of the rubber tree. In fact latex is found in over 10% of all flowering plants. However, it's much easier to get the sap from trees. The process is very similar to extracting maple syrup.
Synthetic Latex is produced in a laboratory and has similar properties as natural latex. Rather than being taken from a tree, it comes from petrochemicals and petroleum byproducts.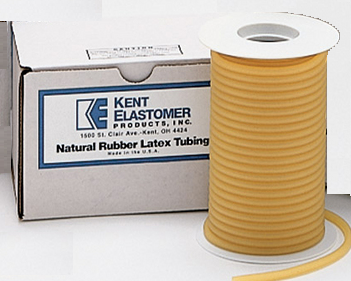 If it doesn't say Natural latex on the box, then you should assume that the hose is made from synthetic latex. This is done because synthetic latex tubing is much cheaper to buy.
When looking for an expandable garden hose you should try to find one with a 100% natural latex core.
Not many studies have been conducted on the long-term effects of using synthetic latex, but I would have to imagine that natural latex is better for you in the long run.
Double Layer vs. Triple Layer Latex Core
Many of the expandable hoses claim that the Triple layer Latex Core is stronger than the double layer latex. However, the tests that we conducted did not prove this, and in fact, the double layer latex can be just as strong as the triple layer.
The process of creating layered latex is done by taking a latex tube and dipping it in boiling latex and allowing it to cool.
In theory the more layers of latex, the stronger is will be. However, with each layer of latex that you add it loses flexibility. However this may not always be the case.
Sometimes the second layer is a very thick polymer that covers the inner latex tubing. Different manufacturers will use a different process for this, so it's up to you to read reviews.
In general we found that the double layer latex is best. The first layer is the organic more durable latex and the second layer is a thick PVC coating.
Expandable Hose Benefits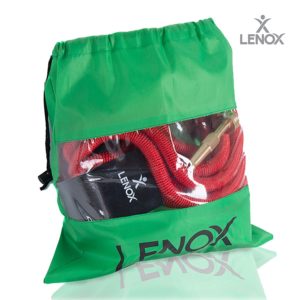 An expandable hose is about half the price of a rubber garden hose AND comes with a hose nozzle.

Why is this you may be wondering?
The inner and outer materials of an expandable hose are far cheaper than other garden hoses. The majority of expandable hoses will cost half the price of a rubber hose and include a free hose nozzle, carrying bag, and hook. Does this mean that expandable garden hoses are half as good as a rubber hose?
Let's take a look at the Pros and Cons:
Lightweight
Have you ever had problems carrying your garden hose long distances? I know I sure have. Sometimes a rubber garden hose filled with water can weigh over 50 pounds.
With an expandable hose you won't get this issue, and most of them weigh only 3 lbs with no water in them.
After you are done the water easily drains out since there is no pressure to expand the latex so that you won't have the problem of additional water lingering in the hose for extended periods of time.
Saving Space
Regular garden hoses can take up a lot of space, and it may be difficult to find a place to store it. The can be so large in fact that it becomes a problem to store them.
With an expandable hose you don't need a hose reel and you can easily save space by hanging it on a hook.
Less Kinking and Tangling
One of the biggest complaints consumers have always had with garden hoses is kinking. Making a kink-free hose seems to be impossible, however many of the expandable hoses are less prone to kinking than rubber garden hoses.
This is because the thin interior latex is very flexible, as opposed to hard rubber.
The expandable hoses do have tangling problems though, and as water fills the tube, it does have a tendency to get tangled. So, while the dreaded problem of kinking may partially be solved, the problem of tangling remains.
It seems as though they will never design a hose that is a kink-free. You just have to get one that kinks less than other hoses.
Automatic Draining
Once the water pressure stops, the hose automatically releases all water inside the hose.
This happens because the expanding properties of latex need water pressure in it to stay expanded. Once water pressure stops, the latex will contract and quickly force the water out of the hose.
Overall there are some very good benefits to using expandable hoses. This doesn't mean that that there are not drawbacks as well.
Choosing the Best Expandable Garden Hose
We looked at over 50 of the most popular expandable hoses currently on the market in 2022 and compared them to find the best expandable hose.
There are several things you should look at closely and here is what we found:
High Quality Hose Materials
Above we covered what materials you should avoid. The majority of expandable hoses use the same out polyester fabric, so you don't need to be too concerned with that.
The inner material should be made of natural latex, which has proven to be stronger than synthetic latex.
The metal garden hose is very similar to the expanding hose but has a metal exterior to protect from very sharp objects from puncturing the outer fabric.
Solid brass fittings
The shut off valve and the connector to the faucet is generally solid brass.
Most expanding hoses have unique hose fittings, so you need to pay attention because they are a bit different from rubber garden hoses.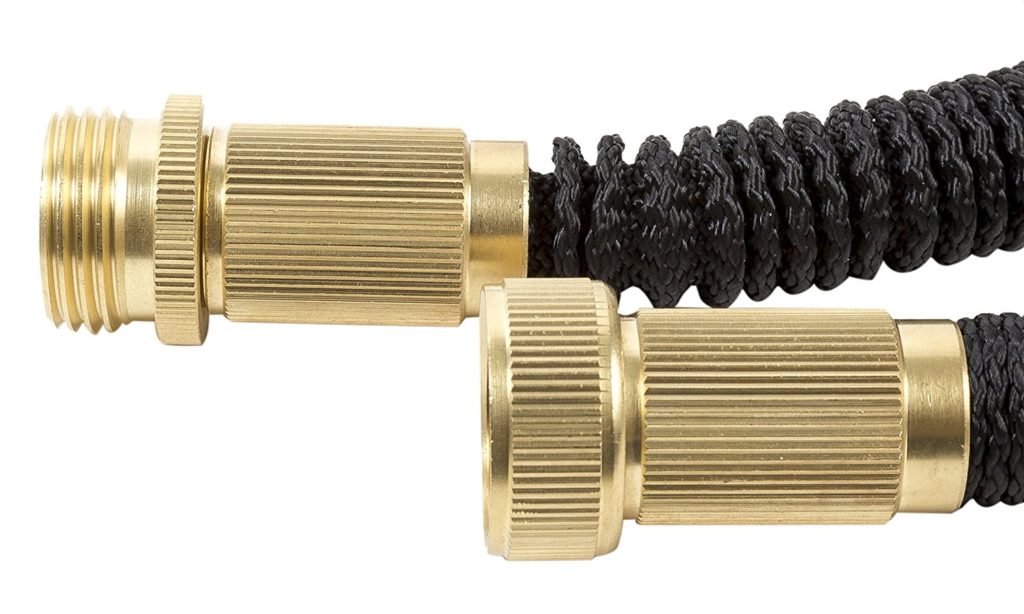 Brass is used because it doesn't rust and it's safe for water to flow through it without causing toxins to leach into the water.
Stay away from aluminum connectors as these can have harmful toxic side effects to your water.
Get the Right Length
Always check the length of the hose. One thing to not is that the length of the expandable hose is when water runs through it.
If it says 50 feet of hose, this means that the hose is really something like 15 feet long and after you flow water though it, it expands to 50 feet.
Check the Warranty
The majority of expandable hoses come with a 12 month warranty and may be replaced in that time if it breaks.
You should read the warranty information carefully to see if you can replace it if it breaks.
If it doesn't come with a replacement warranty you may wish to look for another hose that does.
Hose Nozzle Reviews

The best expandable garden hose will come with a free hose nozzle, carrying bag and hook, most do.
Also, be sure to read the reviews of the hose nozzle.
Sometimes they have a built in hose nozzle, so double check.
Most of the nozzles are cheaply made and if you want a good hose nozzle you probably aren't going to get it as a free add-on when purchasing an expandable garden hose.
Making Your Hose Last Longer
The majority of expandable hoses come with a storage hook to hang your hose when you;'re not using it.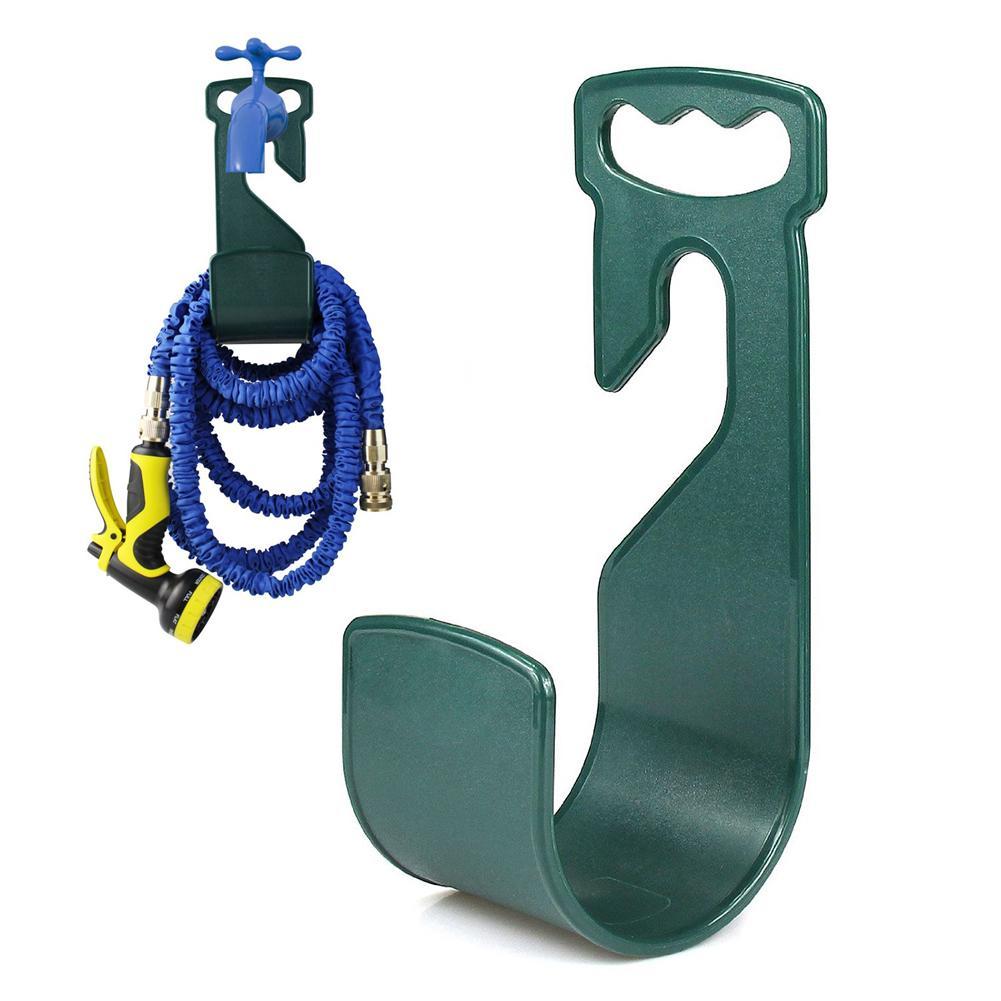 You can also look at Flexible Hose Storage Keepers, which are an excellent way to store your garden hose.
Storing your expandable hose correctly is important! If you leave it outside animals may try to tear at the hose and damage it. It also may get exposed to the elements which can damage it as well.
Possibly the Best Hose Ever Invented?
The new expandable garden hoses are becoming more and more popular for several reasons.
They are less expensive, weigh less and can perform the same tasks as a regular garden hose.
It's not impossible that within the next several years the rubber garden hoses will go the way of the dinosaur and the vast majority of people will be using these instead.
The all natural latex interior is generally considered healthier than rubber and better for the environment.
There are a ton of benefits to the expandable hoses and that's why they are becoming more and more popular every day.