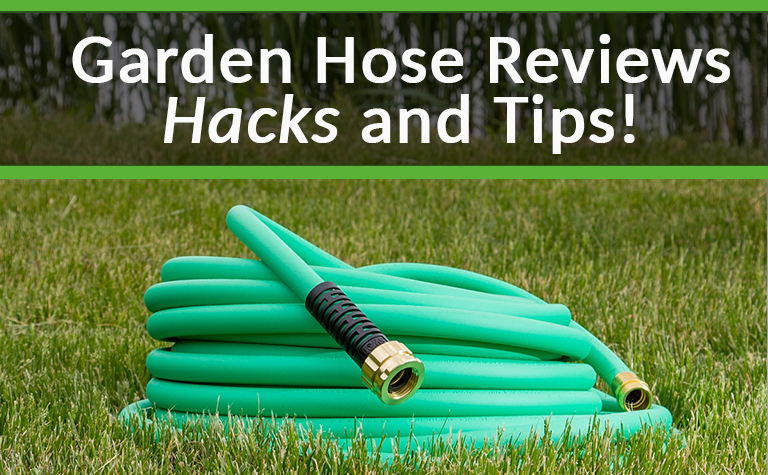 There are thousands of garden hoses on the market to choose from, so how do you find the best garden hose? Although garden hoses are not very complicated, the changes in weather, material, and difference in water flow rate for each hose can have drastic differences on the garden hose that you choose.
Below you'll find out which garden hose is best suited for your needs. The first thing you want to consider is what you will be using your garden hose for?
If it is going to be used for watering your garden, then you may want to pay close attention to the material and make sure made from non-toxic material.
Is the hose material made of natural or synthetic rubber?
Is it BPA-Free?
Is it drinking water safe?
These are just a few of things you should be asking yourself before contaminating your garden with toxic water. Making sure your garden hose is not made of toxic plastic chemicals should be one of the most important things on your garden hose buying list.
Top 5 Rubber Garden Hoses
In this section, you can read a brief description of each of the top 5 rubber garden hoses. You will find out about the material that's used, the water pressure, weight and purpose of the garden hose. Each garden garden hose depends on your individual needs and preferences.
There are several important reasons why rubber is possibly the best material for a garden hose:
Rubber garden hoses have a much higher tolerance to cold and heat (-40°F to 190°F).
Rubber hoses are better for plants, as the rubber contains less toxic chemicals than other garden hose materials.
If you are looking for flexibility, then rubber is what you want.
Rubber hoses are durable and will withstand rough and sharp surfaces such as rocks, or stones.
The garden hose reviews below are split into two different types, including the traditional garden hoses and the less popular expandable garden hoses.
Flexzilla Drinking Water Safe Garden Hose Review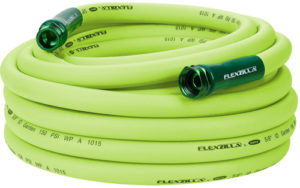 The Flexzilla is designed to be extremely flexible. It's made from lightweight, flexible hybrid polymer and has a PSI of 150. It weighs in at 9 lbs for 50 feet of hose and features a swivel grip handle, allowing you to attach hose nozzles and sprinklers easily. Overall the reviews for this garden hose are excellent, with many loving the color, flexibility, and design. It is also rated "Drinking water safe" Manufactured with FDA sanctioned materials.
While other hoses get stiff and brittle in cold temperatures, the Flexzilla stays flexible even in extreme weather conditions. It uses a Flexible Hybrid Polymer which is safe to drink from and tastes great. This means it's perfect for using it to add water to your pets drinking bowls as well as watering your garden.
Working water pressure – 150 PSI
Performs in Hot and Cold climates
Weight for 50 pounds – 8lbs
Warranty – Limited Lifetime Replacement
Hose Material – Flexible Hybrid Polymer
Kinking Complaints
The flexilla is the only garden hose with SwivelGrip handle which helps attach hose nozzles. It does kink which many people may find frustrating.
Camco – Heavy Duty Premium Drinking Water Hose Review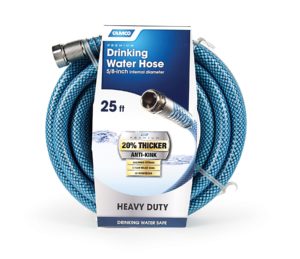 The Camco Premium Drinking Water Hose is one of the only NSF certified drinking water safe, lead free, BPA free, phthalate free garden hoses on the market. Most hoses do not attempt to get the NSF certifications because they are expensive and they will not pass the test anyways.
This drinking water hose is designed for RVs and hits easily onto the faucets. The fittings are machine cut and fit well on the hose. Very high quality on both ends of the hose. Certainly the #1 drinking water garden hose currently on the market.
20 percent thicker than other hoses which helps prevent bursting
Drinking water safe, lead free, BPA free, phthalate free
Complaints with end connectors
Lower water pressure at 40-50 PSI
Kinking Complaints – A few
The Camco Premium Drinking Water Hose has over 1,000 4 and 5 star ratings on amazon and therefore can't be all that bad. If you look closely at the box it does not include the NFS certificate for lead free drinking water. I have not tested the water and would imagine that making false claims would not be a good idea for the company.
Briggs and Stratton Rubber Garden Hose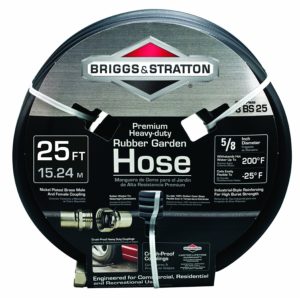 The Briggs and Stratton Heavy-Duty Rubber hose is made to withstand EXTREME cold and can also be used for hot water. It weighs 9.7 pounds for 50 ft. of hose and is 100% rubber. Many garden hoses use layered materials which make it more prone to leaking and bursting. Rubber hoses, in general, are designed to be resistant to the weather, so if you live in a cold climate, this is they style of garden hose you want.
Briggs and Stratton makes a very durable high quality rubber hose that can be used in any climate. It comes in black as the only color and includes a lifetime warranty. Like other garden hoses it says Kink Free/Resistant on the box but usually any hose can kink. If you're looking for a very high quality durable commerical hose then this is your choice.
Industrial-style reinforcing for high burst strength
Nickel plated brass male and female coupling
Rubber washer for watertight connections
Toxic chemcials – Tested and found none
Free replacement if it damages from Sears and Kmart
Weight – 12 pounds
Nickel-plated brass connectors
This is one of the few garden hoses with the best reviews and claims of it never kinking. However, many times when you purchase a new hose it may come kinked. Because it's wound up for long periods of time and moved around a lot, it does have a tendency to arrive kinked.
Atlantic Premium Kevlar Garden Hose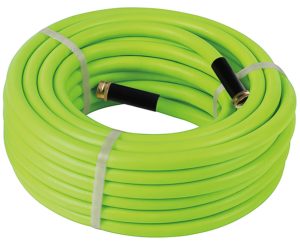 The Atlantic Premium Hybrid Garden Hose is made of rubber and is very lightweight and flexible, weighing in at 7 lbs for 50 ft. of house. Highly resistant to kinking and very high water pressure, with a burst feature that allows up to 350 PSI. It comes with a one year warranty and is suitable for climates with extreme hold / cold climate.
Highly resistant to kinking and very high water pressure, with a burst feature that allows up to 350 PSI. It comes with a one year warranty and is suitable for climates with extreme hold / cold climate.
Works well in Extreme All-weather climates
Working Pressure: 120psi with a Burst Pressure: 350psi
Made of premium hybrid polymer
Lightweight at 3.9 pounds for 25 feet
Free refund or replacement if it breaks
Kinking Complaints – Not Many…
Overall this is one of the best rubber garden hoses you can get for the price. It's made from a premium hybrid polymer which includes heavy-duty rubber. The customer support is great and if your garden hose tears within the first year, they will replace it for you.
Water Right – Polyurethane Slim & Light Drinking Water Safe
Water Right makes one of the best Polyurethane garden hoses currently on the market. It's NSF and FDA certified for safe drinking water. This is much better than PVC or vinyl and contains no traces of BPA, lead or other toxic chemicals that can have a negative impact your health, as well as the health of your garden. It comes with brass fittings with a shiny chrome-plated exterior. This garden hose is designed for hot or cold water and is very flexible and lightweight.
Polyurethane is considered one of the most garden friendly materials to use. It is the most expensive hose material and as such it requires less maintenance and can be exposed to the elements. The Water Right – Polyurethane Slim & Light Drinking Water Safe has few kinking complaints and the other problem people has is with the water flow speed.
Drinking Water Safe – NSF and FDA certified polyurethane resin
Industrial grade brass chrome-plated fittings
Flexible in all weather conditions
Lower flow rate at 4-5 gallons per minute
Kinking Complaints – Not Many…
The Water Right – Polyurethane Slim & Light hose is a great option for Polyurethane. If you need a fast water flow then it's probably not the best option. It's ideal for slow continuous water flow and harsh climates.
The #1 Consumer Complaint: Kinking and Tangling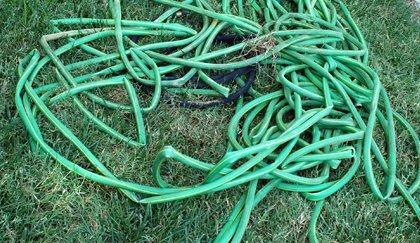 Unfortunately, every garden hose can become tangled and kink despite the claims that many companies make. There is no kink-proof garden hose. If you don't take care for your garden hose, it doesn't matter how expensive it is; it will kink! However, some garden hoses are less prone to kinking.
The reason why garden hoses kink is because they people store them in tightly wound coils or if the garden hose is old. Kinks will lead to cracks and leaks and prevent the water pressure through the hose, often forcing the water back to the spigot causing it to explode off of the faucet.
The best way to avoid kinking your hose is to keep it as straight as possible when it's not in use. You can do this by stretching it along with a path or sidewalk at the edge of your lawn. Preferably it should be stretched out downhill to allow the water to drain out. 
When your hose is wound up or goes in several different directions, it will get tangled. You can easily avoid kinking problems by keeping it as straight as possible.
The #2 Consumer Complaint: Cheap Materials
Finding a garden hose made using high quality materials can be a difficult task. This is the reason this site is here, so you don't have to do the hard work.
Each brand of garden hose uses different inner and outer materials for their hoses. Some are better and some are worse, so you do you decide? By understanding what each material is and the pros and cons you can make an informed decision.
Natural Latex
The most inexpensive and commonly used material today for garden hoses is latex.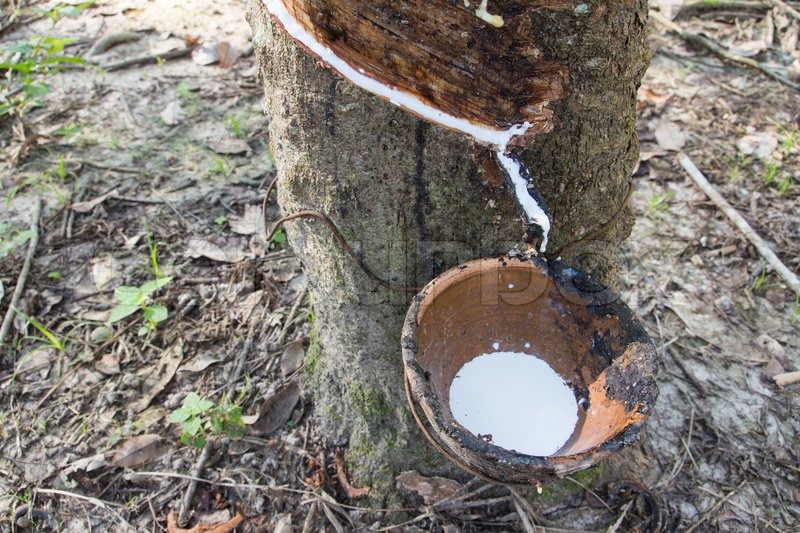 Latex is a milky white sap that originates from the hevea brasiliensis tree in the Amazon jungle. It contains fewer chemicals than most other materials and can be safe to drink and water plants with.
Natural latex is used in many of the best expandable hoses, including the VicTsing Expanding Hose. You want to try to stay away from the synthetic latex if you plan to use your garden hose in your garden.
Synthetic Latex
Is used in many different types of clothing and often found in mattresses.
What makes synthetic latex so good is its affordability, high tensile strength and resistance to weather and wear and tear.
The Josy&Co – Expandable Garden Hose is a great example of a less expensive hose that is made of synthetic latex.

The downside is that it is made from petroleum byproducts and is generally not the best material to drink from. Toxic chemicals may get into the water if the synthetic latex is left in direct sunlight for too long.
Natural Rubber
Is the most flexible and elastic rubber material used for garden hoses.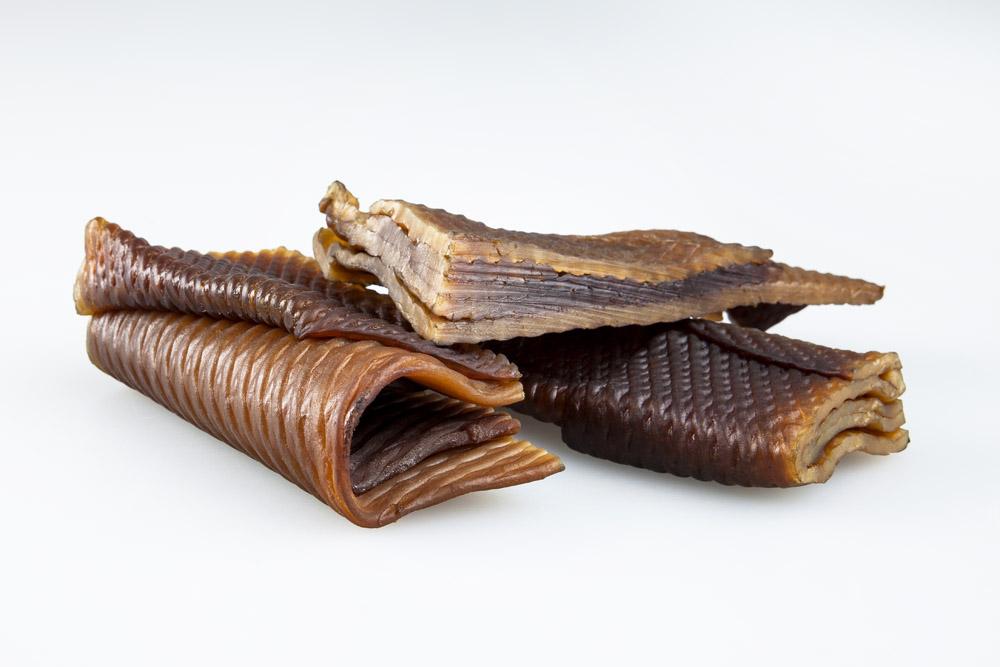 The main difference between most rubber hoses and latex is that the latex will have the ability to shrink and grow, making it the most common material in expandable garden hoses. While Rubber is made from latex it has the added compounds which make it harder and less flexible.
A great example of a rubber garden hose is the Flexilla, which has a 100% all natural rubber interior.
304 Stainless Steel
The Hot new trend thing this summer is the metal garden hose and while it's taken long enough to become popular there are some things you should know before buying one.
The exterior is 304 stainless steel and the interior is rubber. Making it a bit more expensive than a regular hose but it adds durability and will last for many years without leaking.
The 304 stainless steel exterior doesn't rust and will provide the maximum protection to the inner hose, so that it doesn't rip or tear.
Polyurethane
is a popular choice for coiled garden hoses. This material weighs less than rubber and is much easier to move around, weighing about 3 lbs for 50 feet of hose.
The Clear Flow Water Garden Hose is one of the top Polyurethane drinking water safe hoses out and combines the best properties of both plastic and rubber.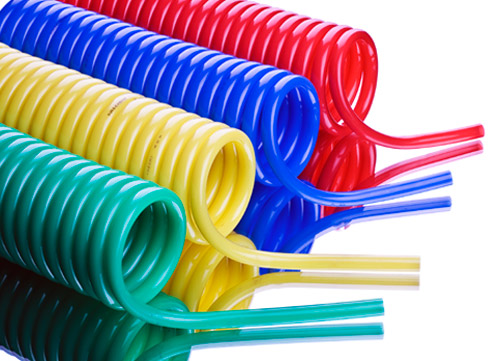 It offers the best kink and tear resistance, as well as the flexibility of natural rubber latex.
Vinyl
Is a much thinner material than others making it up 50% lighter in weight than traditional garden hoses.
It has the flaw of generally being more toxic than other materials and is similar to PVC.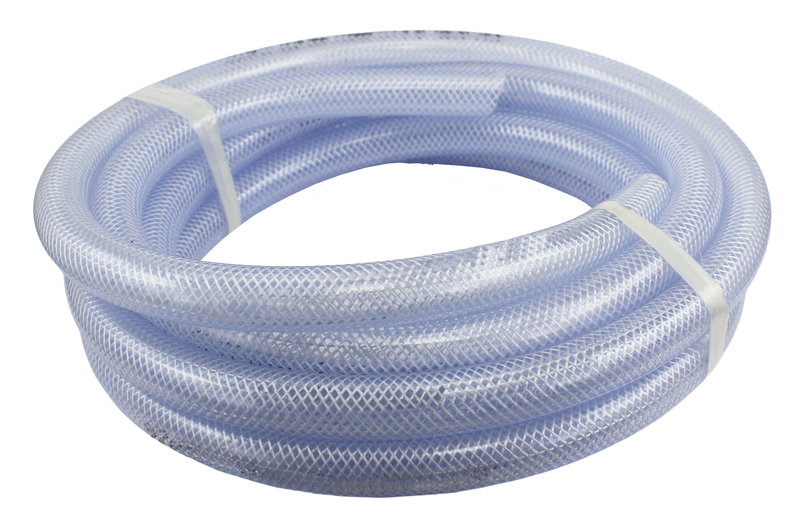 Consequently, the more lightweight material is prone to puncturing near the mid-section of the garden hose.
The #3 Consumer Complaint: Leaking
The third biggest complaint about garden hoses that many consumers suffer is leaking. When the garden hose stretches tightly, it makes it easier to pierce the material with any small sharp object such as a rock, brick, or fence.
Under the right conditions, even the best garden hose in the world will leak if you're not careful.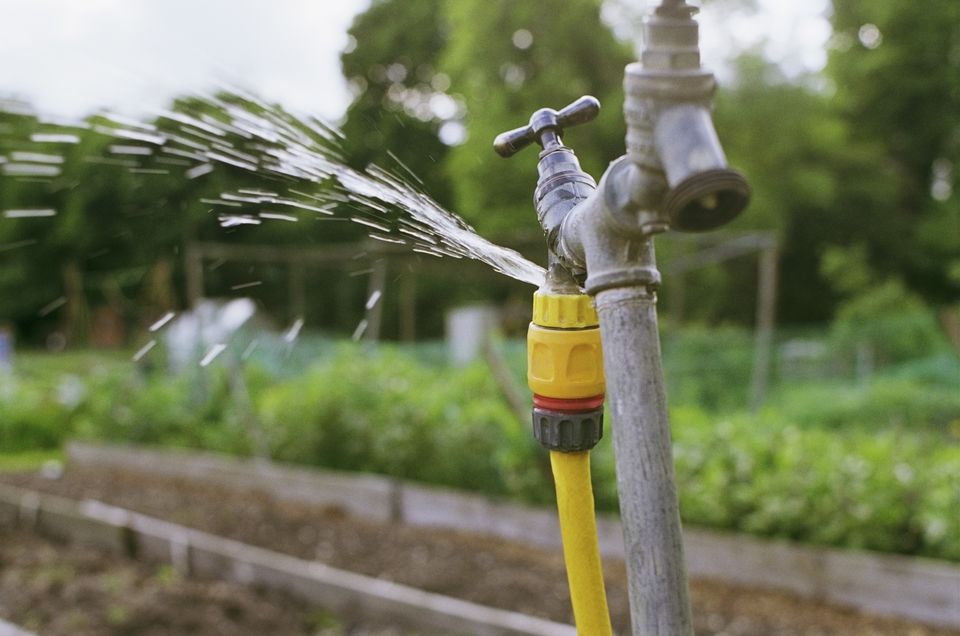 To prevent leaks at your faucet when connecting your garden hose, you want the end fitting to be heavy duty brass.
Standard water spigots use a ¾" diameter pipe size, and you will find just about every garden hose come with an adjustable end connector which easily allows you to use a wrench to tighten your garden hose to the correct tightness.
You will find that the majority of garden hose fittings are solid brass and often include a female and male adapter. You want to stay away from plastic fittings because they are more prone to mildew buildup and can break much more easily than brass. The brass connectors are also rustproof and better for your plants as water bases through the brass.
Important Factors in Choosing the Best Garden Hose
There are a few things you should keep in mind when looking at garden hoses. If you already know what the primary use of your garden hose will be then you can easily select the proper type of hose. Below are a few things to take into consideration.
Check the Pressure Rating (PSI)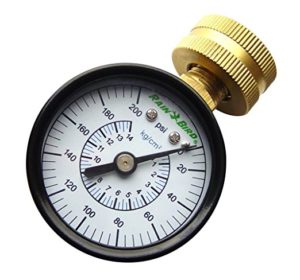 Before you buy a new garden hose you should check your water pressure with a good pressure test gauge. Each garden hose can handle only so much water pressure before they burst and this is especially true with the expandable garden hoses. The pressure rating is measured in PSI or pressure per Inch. A lower quality hose will have lower PSI, which means the water will come out slowly, generally ~50 -100 PSI. A high-end garden hose will have 400+ PSI, which allows for very fast water flow and more water area coverage
If you will not be using your garden hose to water much land, then using a lower PSI garden hose will be ideal. However, if you intend to water a larger area of land, then you will want to save time by using a high PSI garden hose to cover the most area in the shortest amount of time
Choosing the Right Size

After finding a material that you like and a style of hose that you think you will enjoy, the next thing to look at carefully is the size. The length of the hose is essential and most garden hoses come in a variety of different sizes to meet your needs.
Each hose has an inner and outer diameter which will determine the water flow PSI, or how much and how fast water can pass through it.
If you need water to move through quickly, then you will want to find a high pressure garden hose with a larger inner diameter. Or perhaps you want a lightweight garden hose that only weighs a few pounds.
Properly Storing Your Garden Hose
If you don't correctly use and store your garden hose, it doesn't matter how much you paid for it; you will end up buying a new one. Although it can be one of the easiest tools to use, at times it can be as difficult as wrestling a beast.
Hangers and Hooks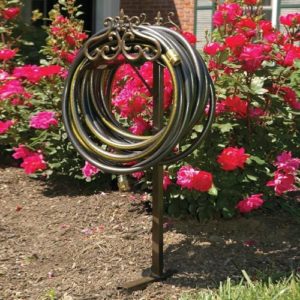 While the best way to prevent kinks in your hose is to lay it in a straight line, there are times when you won't need your water hose and want to store it away.
The best place to put your hose when not using it is someplace out indoors, such as a shed, basement or garage. It should be kept off the ground and a simple hook can accommodate a large garden hose.
You can find many metal hangers at garden centers. You should make sure to hang your hose spout down so that the water can be allowed to drain out while it's not in use. This helps prevent water from building up in the garden hose and possibly spreading contaminates.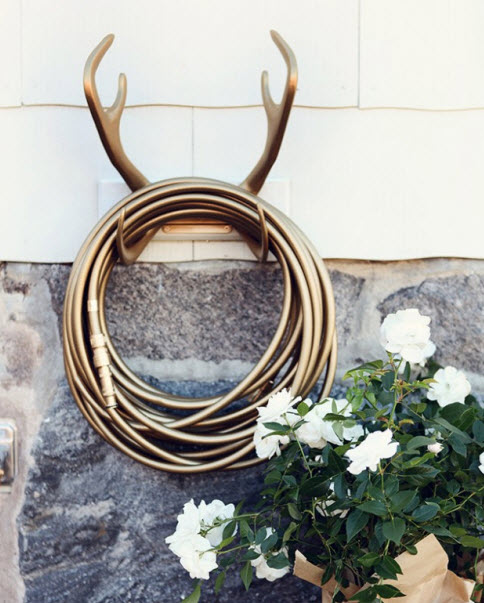 A DIY garden hose hanger is another option and you can easily make one yourself for under $10.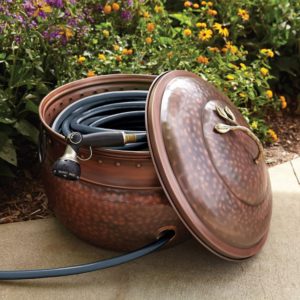 Most people know how difficult it can be to coil a hose, even using a good garden hose reel. It may be worth investing in the best equipment possible but for those of you that want to come up with creative ways to coil your hose, take a look at these ideas.
By coiling up your hose after each use, you are saving space and the chances of it getting a hole or damage is significantly reduced. One of my favorite ways to coil a hose is to simply hide it in a container, such as a plastic garbage bin or little swimming pool. Even a plastic garbage bag can help prevent your garden hose from experiencing the wear and tear of the elements.
Extra Garden Hose Care Tips
If you connect your hose to a garden hose nozzle, be sure to spray out all of the water after you turn of the nozzle on the faucet. Leaving a hose under pressure for an extended period of time will cause the interior latex to expand.
Try to avoid running large heavy objects over your garden hose. That includes lawn mowers, wheel barrows, cars, bikes, etc.
After you're finished using your hose, it's best to pick it up rather than to drag it across concrete or your yard. Doing this will prevent rips and tears and help you get a bit of exercise.
When using your garden hose, be sure to gently place it on the ground, rather than throwing it down. I've seen many people throw it to the ground and this is certainly not safe for long term use. You can easily puncture a small hole or worse yet create a big hole in the hose making it unusable.
When you have problems with your garden hose or just want to extend the length, be sure to have plenty of garden hose fittings of all shapes and sizes. Having different hose fittings will save you a  lot of money in the long run.
Most of the ways discussed here are simple techniques and common sense that a lot of people forget. If you want your garden hose to last for 10+ years, then you have to treat it properly. No matter how much you pay or how good you think your hose is, if it's not properly stored and exposed to the elements, it will get scratched and become unusable.
Saving Water with a Drip Irrigation System
If you are plan to use your garden hose to water a garden, then a drip irrigation system allows you to water your plants without having to water them directly. You can set up tubing and the water will slowly drip out via small connectors. You can have the water drip out on to individuals plants, spray onto larger plants or even a sprinkler style setting.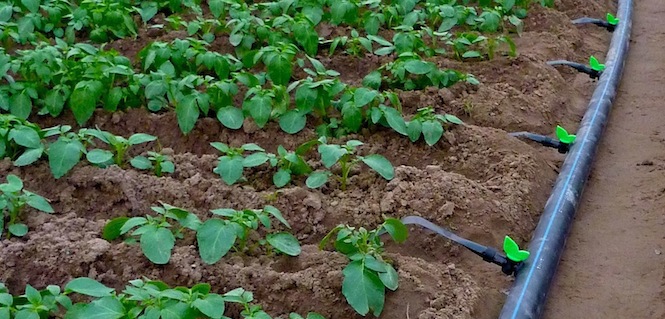 The awesome thing about these is that it's really fun to set up your drip irrigation system, You can get really creative and run your tubing all different ways and either put it above the mulch, below, attach it to posts and a million other different ways. It allows you to really be creative with your garden. Also, you are saving water and time when it's set up.
FAQ – Frequently Asked Questions
What Are the Prices of Garden Hoses Today?
The prices of the best garden hoses are reflected by how many feet the garden hose is, the material, add-ons such as hose nozzles, hooks, connectors and name brand.
Polyurethane – a Polyurethane garden hose is safer to drink from and perfect for organic gardening. They are bit more expensive than other hose varieties. Polyurethane weighs less than rubber and is much easier to move around, weighing about 3 lbs for 50 feet of hose $50-$100.
Rubber – Garden Hoses made of thick rubber are ideal for heavy duty use and can withstand harsher climates than other hoses. The average price range for the best rubber hose is about $30-$50. However, these are not always good to drink from and can contain toxic materials.
Latex – Garden Hoses are usually expandable garden hoses and are the most inexpensive hoses on the market. They have the benefits of being very lightweight and don't need to be wound up when you're done using them. Instead, they can simply be placed on a hook. The average price is $20-$40 for 50 feet of hose.
What is the Best Garden Hose?
There is no best garden hose instead you should focus on what is the best garden hose for your needs. Do you need a garden hose for watering a small or large plot of land? Or do you plan on using a high PSI hose to wash your car?
Do you live in a cold weather climate where harsh winters can damage your hose if exposed to the elements? All of these things should be taken into consideration before choosing the best garden hose for you.
Expandable Gardens Hose vs. Rubber Garden Hose
The expandable garden hose came out several years ago and have become very popular. Most of them feature a lightweight design with a Triple layer latex interior, making it perfect for small gardens. Rubber hoses are ideal for harsher climates and are more heavy duty, whereas expandable garden hoses are intended for warmer climates.
How long will my garden hose last?
A high-quality garden hose should last you for up to 10 years if you take proper care of it. The longest lasting garden hoses tend to be heavy duty PVC rubber due to the thicker hosing material. Vinyl and polyurethane tend to deteriorate much more quickly than thick rubber hoses, especially if they are exposed to direct sunlight and extreme temperature changes.
Taking good care of your garden hose will always increase the lifespan, and there are many simple steps you can take to improve the life of your garden hose.
Can the hose material affect my plants?
Recent studies have shown that over 65% of standard garden hoses found in department stores contain Bisphenol A (BPA), PVC and Phthalates.
Phthalates are a toxic chemical byproduct used to soften and increase the flexibility of plastic and vinyl.
When exposed to direct sunlight the Phthalates can leach into the water inside the garden hose. If you will be using your garden hose to water plants that you intend to eat, such as vegetables or fruits. You should look carefully at the labelling to see if it is BPA and Lead-free.
Does a 'kink-free' garden hose exist?
After looking at hundreds of garden hoses currently on the market, I can find no garden hose that never kinks. Any material will kink given the right circumstances, and all you can do is follow the steps mentioned above to prevent kinking. In conclusion, there are also some hoses which are very kink resistant but none that are kink free.