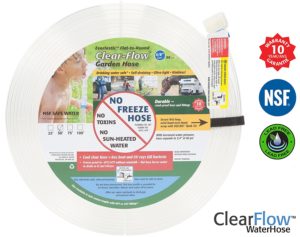 In my search for the best drinking water safe and garden friendly hose, there have been a lot of good and a lot of bad garden hoses.
My friend recently purchased the Clear Flow garden hose for the summer and I wanted to test it out. I read all the reviews online about this hose and a lot of people had some pretty bad things to say.
There were tons of complaints about leaking, water turning yellow, no water-flow, and more.
Is this all true? Let's take a look!
Why don't they make clear garden hoses?
I've always wondered why they didn't make clear hoses. I used to wonder why they didn't make metal garden hoses and then those came out and not the clear hoses are coming out.
Don't you want to know what's going on in your hose? Is my water clear, are their bugs living in my hose?
It took them long enough to finally come up with a reliable, solid clear garden hose that's actually good for your garden.
If you have an organic garden, or would like to start doing organic gardening, then you want a good garden hose that's "organic".   Even if you're not growing organic food in your garden then it might be a great idea to use a water filter these days.
However, it can be difficult to find a good garden hose water filter and they can be a bit expensive.
Polyurethane – Drinking Water Safe Material
By far one of the best materials for any garden hose is Polyurethane.
What makes Polyurethane so good is that it's very light and very good for your garden. The downside of course being is that it's more expensive to manufacturer than other materials and therefore costs more money.
One of my other favorite garden hoses, the Water Right, is also made from Polyurethane.
Polyurethane is harder than PVC and is much better for you to drink from.
It's a NSF rated drinking water safe hose, so it's perfect for your plants and pets to drink from. This hose is BPA free and is approved by the NSF (National Sanitation Foundation) for drinking, which is a very tough certification to get.
About 90% of garden hoses don't have this certification.
The Most Lightweight Hose I've Used
What I look most for in my garden hoses are that they are lightweight. I usually have to carry them around and if they're heavy, I don't enjoy doing that.
This hose weighs about 4 lbs for 75 feet of hose, which is ridiculously light. You won't find any other rubber or Polyurethane that is this light.
They do make several expandable hoses that are this light but that's not the same thing.
Super-Fast Water Flow
The water flow is great for this hose. Once the hose is extended all the way the water shoots out very fast.
The water flow is fast, with about 100 PSI at it's normal speed. This is faster water flow than the vast majority of rubber garden hoses and it can handle a burst pressure of 230pI.
The burst pressure means that you can turn up your faucet to the max and it will flow smoothly through the hose.
It's not recommended to keep it at this level for more than 24 hours
Best Organic Garden Hose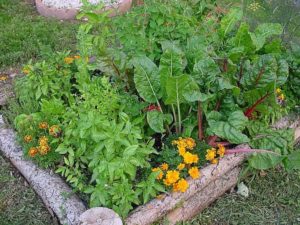 This hose designed for the garden and not for heavy-duty yard work. This is why a lot of people have given it bad reviews online, they're using it the wrong way.
It's not a good hose for prolonged watering or to be used with a sprinkler.
This hose is designed for light-watering of your garden and for other small tasks, such as filling up your dog's water bowl.
Also, it's ideal for kids that may end up drinking the water and you don't want them to drink from a toxic garden hose, such as the Briggs and Stratton – heavy duty rubber hoses.
Negative Things
A lot more people love this hose than hate it, according to all the garden hose reviews. It does have some problems with kinking, but which hose doesn't?
It doesn't come with a hose nozzle, so you'll have to buy one separately or use the one you already have.
Complaints about water flow is a weird one because the Clear Flow I used had amazing water flow. If your faucet doesn't have high pressure, they you may have slower water flow than usual.
Conclusion
Overall, this is one of my favorite garden hoses, simply because it's clear! I've been waiting for a clear garden hose for a long time and this one is awesome.
If you take good care of this hose and use it for smaller tasks, such as watering your garden then it will last a long time.