One of the top rated Polyurethane garden hoses on the market, the Water Right garden hose is designed by Water Right Inc., and has a sleek design and is labeled drinking water safe.
If you do a lot of gardening, then this is the type of material you want your hose to be made out of.
This garden hose has a ½" diameter making it larger than most expandable hoses, meaning you get more water flow and a higher PSI. Surprisingly it's lighter than many other garden hoses as well.
As you can see in the video about it coils up very easily and has a unique shine. This glow is made from the Polyurethane exterior that is harder than PVC and you can drink water from it.
The quality of this hose is the best you can get which is reflected by the higher price. It will last you a long time, perhaps decades if you take good care of it.
Drinking Water Safe – NSF and FDA certified
Most companies don't even bother trying to get this certification because they use toxic materials in their hoses and know they won't get it. It also costs a lot of money to even try to get the certification.
The polyurethane resin used in this hose means that you can safely drink the water from the hose and water your garden without having to worry that you're contaminating the soil or your plants.
No toxic Chemicals – No lead, BPA, Phthalates
This is a common thing many other garden hoses contain. I have seen may other top rated garden hoses that contain Phthalates, which is a softening agent used in PVC.
When it's exposed to direct sunlight this will get into your water and then into your garden, which means you will end up getting into your body. This is why more and more popular are liking the metal garden hose because it blocks UV light as well.
These byproducts can be very harmful to infants and animals and even adults, causing cancer and other terrible things.
All Weather Safe
Not only can the Water Right be exposed to direct sunlight and extreme cold and still function normally. It can handle very hot water and cold water. Unlike most hose when you leave them out in the sun they will change color and begin to break apart. This one will stay flexible.
Variety of Colors – Comes in 4 Different Colors
One of my favorite things in garden hoses is being able to choose the color that I like. This one comes in four pretty sleek looking designs and none of them are black or green!

Solid Brass Fittings
Like many of the best garden hoses this one comes with solid brass fittings. This means they will not be breaking any time soon and can be tossed around. They are also chrome plated, which adds a bit of style unlike most garden hoses have.
No included is a hose nozzle which should be for this price…
Fast Water Flow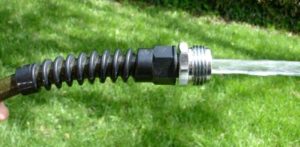 Having one of the highest water flow of all garden hoses at 400 PSI. You can water 4 gallons / minute which is one of the highest water flow rates you can get. I have seen 500 PSI hoses but the operating PSI is generally around 200 PSI. If your faucet doesn't put out that much water than you won't have to worry too much about this.
Water Right – Polyurethane Slim & Light Drinking Water Safe Rating
Drinking Water Safe - NSF and FDA certified polyurethane resin

Industrial grade brass chrome-plated fittings

Flexible in all weather conditions

Lower flow rate at 4-5 gallons per minute

Kinking Complaints - Not Many...
Summary
Water Right makes one of the best Polyurethane garden hoses currently on the market. It's NSF and FDA certified for safe drinking water. This is much better than PVC or vinyl and contains no traces of BPA, lead or other toxic chemicals that can have a negative impact your health, as well as the health of your garden. It comes with brass fittings with a shiny chrome-plated exterior. This garden hose is designed for hot or cold water and is very flexible and lightweight.