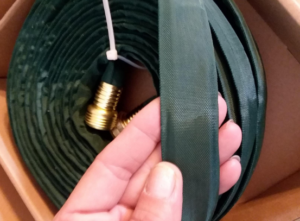 This expandable hose is one of the most unique I have yet to see. It's flat design is like no other and it's because of this unique design that it works so well.The exterior is made from really high quality fabric that doesn't rip or tear very easily.
It doesn't feel cheap from the feel of it and my first impression is that it was hold up for several years or longer if you take good care of it.
The expandable hose is shipped in a nice brown box with a hose nozzle and instruction manual. It's not wrapped in plastic, which I like because I try to be environmentally conscious. It measures 50 feet in length, which should be long enough for most peoples needs.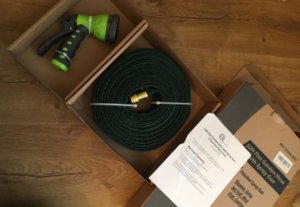 This hose is designed not to take up very much space and can hang on a hook or be placed in box. This is great because a normal rubber garden hose is heavy and can take up a lot of space.
It is very lightweight at only a couple of pounds and only several pounds when it's filled with water. It is very easy to hook up and takes about 1 minute to set up to your hose nozzle.
The other thing I really like about this one is the color. It has a dark green color that blends in with my garden and you can hardly notice it.
The exterior material seems to be a very tough polyester fabric. Thicker than most of the other expandable hoses that I have seen.
The garden hose nozzle is the other good thing about this product that makes it stand out on the top of the list.
The hose nozzle included is great and comes with a variety of useful settings. The jet setting is great for reaching hard to get to plants and the full spray is very strong as well. Several of the settings are ideal for washing your car, house or pets.
The hose nozzle included comes with 7 functions, full spray, cone spray, center, flat, shower, jet or mist.
The quality of the hose nozzle is also very good. It's made from high quality metal and plastic and while it may not be as good as many of the best host nozzles, what do you expect when you're also getting the expandable hose as well? While using the nozzle I did not experience any leaks and it has a very comfortable grip.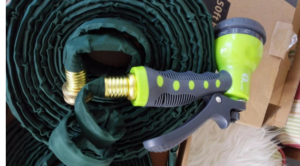 After owning several expandable hoses this one is my personal favorite. It has such a lightweight and compact design, it really stands out from many of the other hoses on the market.
The other big thing about this hose is how few kinks I was getting. Many of the expandable hoses claim never to kink but guess what, they do!
Not only did I get no kinking with this one I was shocked that there was no tangling as well.
1byone Flat Expandable Garden Hose Rating
Hose materials - Polyester Cloth, Latex with PVC coating

Solid brass fittings

Length - 50 Feet

Warranty - 30-day full refund with 12 month warranty

Hose Nozzle - 7 Function Spray Nozzle

Water Pressure - Burst pressure of ≥300psi
Summary
The 1byone Flat Expandable Garden Hose has a unique flat design, unlike most other expandable hoses. It is one of the few expandable hoses on the market that doesn't kink or tangle and comes with a great garden hose nozzle. Reviews have been overwhelmingly great, and most people love this hose. Overall it's a very professional hose with solid latex and PVC interior that will work well in all weather conditions.
Conclusion
We are giving this expandable garden hose the highest rating so far. There are many things that you need to look at when searching for the best expandable hose but this design by 1byone nailed it.
Personally, I've really come to like the metal garden hose, as it seems to have fewer problems than the expandable hoses.
The lightweight flat design is really unique and perhaps it's because of this design that we experienced so few kinks and tangles. One of the other biggest problems with expandable hoses is low water pressure. Not so with this one. The water pressure was fantastic, it didn't leak, the hose nozzle is great and the exterior and interior hose tubing is great.