The As Seen on TV Hose Hero metal garden hose was one of the best metal garden hoses in the summer of 2017. Finally a garden hose that you don't have to worry about. In the infomercial you can see them running over the metal garden hose with a lawn mower and nothing happens.
In our Top 5 Metal Garden Hoses article – we looked at what makes these metal hoses so different from other hoses.

If you were to do this with an expandable hose, you may have to worry about it bursting. The great thing about the Hose Hero is that it's much less expensive than most garden hoses, at the time of writing this review only $25 for 25 feet of hose. Like most hoses you can use a connectors to connect two or more together to make it 50 feet if you like.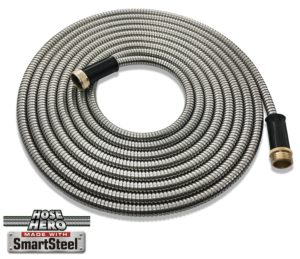 This model is very lightweight weighing in at about 2 pounds. I recently purchased The Bionic steel garden hose and I am loving it. If this one is anything like that one, which I can't imagine how it wouldn't be then anyone will love this hose. It is surprisingly flexible and weather resistant and fun to use. The water pressure.
The stainless steel 301 steel allows the garden hose to be UV and Corrosion Proof meaning it won't rust or get damaged by the sun. For years a metal garden hose was thought about but never implements due to the corrosion and rust factor. Finally in 2017 this problem has been overcome by a new type of stainless steel that does not rust. Also, it doesn't get hot to the touch when exposed to direct sunlight all day, which is common in many rubber garden hoses.
One of my favorite things about this hose is that it's pet resistant. I often will find my dogs chewing up my garden hoses when the water is coming out. For some reason dogs love to enjoy chewing on the rubber of a garden hose. With the metal garden hose you won't find your pets, or any animals trying to chew on it.
Not much research has done to determine whether this garden hose has drinking water safe water. The big problem with a lot of these new hoses is that they have not yet been tested to see if the hose leaks chemicals into the water. This can take months or sometimes even years to happen but when it does it can be very bad for your garden and the water can become undrinkable.
Hose Hero - Metal Garden Hose Rating
Hose materials - Stainless Steel

Length - 25 Feet

Weight - Super Lightweight: Less than 2 lbs

Complaints? Leaking and Kinking

Warranty - 45 Days Money-Back and 12 Months Warranty
Summary
The great thing about this metal hose is that it's less expensive than most of the others. It has a reputation as being one of the most affordable and best quality metal garden hoses currently on the market. It comes in 25 foot length and can double the length with the connector. You can watch the video in the amazon description and it looks just as good as most metal garden hoses on the market.