After reading all of the great reviews, I thought I would give this expandable hose a try. It's been difficult to find an expandable hose that doesn't have a ton of negative reviews but it seems this is the best one.
Like most people, I like to read all of the reviews before buying a new garden hose. When I received this hose it came packaged in plastic and looked smaller than 50 feet. I took out the measuring tape and sure enough it was 50 feet.
It easily connected to my faucet right away and I turned it on and watched it expand. The first thing I tried was turning off the water to see how it would contract. Many hoses fail to contract quickly and you have to sit there and wait a while. Not so with this one.
The other thing I liked most about this one is the color. Similar to the 1byone Flat Expandable Garden Hose it comes in a dark green color that blends in perfectly with my garden. The next thing I wanted to try out was the hose nozzle.
The one complaint I have with my new metal garden hose is that they all come in the same color. The cool thing about these expanding hoses is that they have many different colors.
Josy&Co Garden Hose Nozzle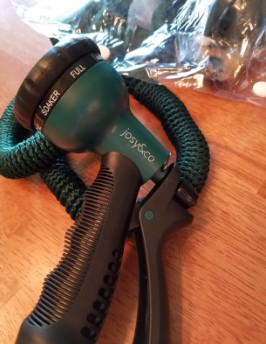 The hose nozzle comes with 8 settings like most standard garden hose nozzles. What you really want to pay attention to in a good hose nozzle is the quality of the materials. Is it made of plastic, metal, or some combination of the two?
While this is a plastic hose nozzle, most are that come included for free with just about any garden hose you purchase. This is because a good hose nozzle can cost about $15 and you don't want to pay extra when buying your garden hose, so they give you a cheaper nozzle.
This nozzle has pretty good settings with the standard 8 settings. I have hose nozzles that I use that is my favorite and many people have one too, so if you don't like the nozzle that comes with it you can replace it pretty easily, as it fits most standard nozzles.
Triple layer latex Interior
In the expandable hose guide, we took a look at difference between 2-layer and 3-layer latex. When creating layers on top of latex tubing it really depends on the polymer that they are using. The initial latex tubing inside the hose is very prone to leaking and tearing fairly easily.
By dipping the tubing into a polymer you add much more durability. By waiting for that layer to hard and dipping it again you create a third layer. This can help prevent tearing but you are losing some flexability.
Josy&Co - Expandable Garden Hose Rating
Hose materials - Triple layer latex with 5,000 Denier Woven Polyester

Solid brass fittings -

Length - 50 Feet

Hose Nozzle - 8-Pattern Spray Nozzle

Warranty - 12 month warranty

Water Pressure - Doesn't advertise
Summary
After watching several videos of this hose in action I really liked it. It doesn't specify the PSI anywhere on there homepage, so one of the problems I had with it is that you don't know the water pressure. Most people have not complained about this and the water pressure seems to be fine. Overall I would consider this expandable hose one of the best on the market and if you're going to buy it be sure to watch all the videos first.