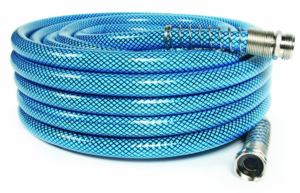 When I first looked at the reviews for this hose on amazon, all of the negative reviews were on the first page, which I found very weird. There are hundreds of 5 star reviews and about 10 negative reviews and 7 of those 10 are on the first page. So I decided to dig a little deeper into what people had to say and this is what I found out.
The Camco hose is designed for recreational vehicles using BPA free plastic and you can drink the water.
Many of the people that purchased this hose give a negative review for kinking. Any hose will kink if you don't take proper care of it.
Even if you do take care of it it will still kink. This hose is designed to be a water supply line to your faucet.
Meaning it's not really meant to be carried around the garden. An expandable hose is a much better option for your garden, as the latex seems to be the best option for your garden.
You are meant to hook it up to your faucet and use it primarily for drinking water.
RV Hose – Not a Garden Hose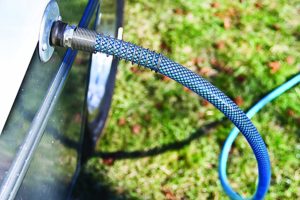 While I decided to included this hose in the garden hose reviews, it's not really meant for gardening. It's designed to be hooked up to RVs and supply drinking water. If you need this hose to water your garden then it's probably not the best option because it will kink more easily than other garden hoses.
Perhaps this is reflected in the negative reviews that I was reading. Most of the people that left bad reviews for this hose were trying to use it for gardening. If you want to take a gamble then go ahead.
When this hose is exposed to high levels of UV light it may not function as advertised, due to the materials used that make it drinking water safe.
Drinking Water Safe – lead free, BPA free, phthalate free
Making a garden hose that is drinking water safe is very difficult. The materials you need to use are expensive and that's why you will only find several good drinking water safe hoses.
This one is one of those but it's not really meant to be for a garden. As I mentioned it's designed to be an addition to your RV because the line is safe to drink.
NSF Certified Hose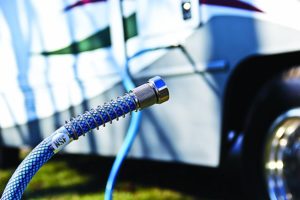 This certification means that you won't be getting lead or anything else in your water. The material is high quality drinking safe rubber. Most garden hoses contain PVC which is not good for drinking and if you do want a good drinking water safe garden hose then I would take a look at the Water Right garden hose.
This is one of the few hoses that complies with the California's AB195 lead free and safety act. Meaning you can actually drink the water without getting cancer.
Camco – Heavy Duty Premium Drinking Water Hose Rating
20 percent thicker than other hoses which helps prevent bursting

Drinking water safe, lead free, BPA free, phthalate free

Complaints with end connectors

Lower water pressure at 40-50 PSI

Kinking Complaints - A few
Summary
The Camco Premium Drinking Water Hose is one of the only NSF certified drinking water safe, lead free, BPA free, phthalate free garden hoses on the market. Most hoses do not attempt to get the NSF certifications because they are expensive and they will not pass the test anyways.