When the Original metal garden hose came out I ordered one right away. I've been wanting a good metal garden hose for a long time but could never find one.
The Bionic Steel is very similar to the other metal garden hoses but is less expensive and seems to kink much less than my other hose.
304 Stainless Steel
For a long time I wondered why they didn't have metal garden hoses? Are they too heavy to make, what's the deal?
After quite a bit of searching I found the reason.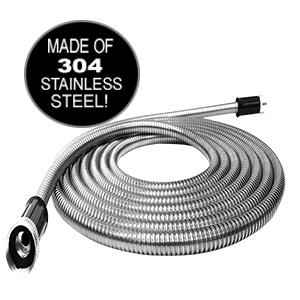 Rust!
The previous attempts at making a lightweight metal garden hose failed because they would rust.
All of the new metal hoses now are made from 304 Stainless Steel, which doesn't rust.
304 Stainless Steel is a newer type of steel that uses an alloy which enhances corrosion resistance, meaning it won't rust.
Water Pressure
The biggest complaint about the new metal garden hoses has been slow water flow. The diameter of the inner tubing is smaller than most hoses, being about the size of a pencil.
The smaller tubing allows for higher pressure because the same amount of water is coming out the faucet and shooting out a smaller tube.
If you have a larger diameter garden hose, the water will just pour out, but with a hose like this it will shoot out at full power.
Overall, I'm happy with the water flow speed and it seems faster than all my other garden hoses.
Expandable Hose vs. Metal Garden Hose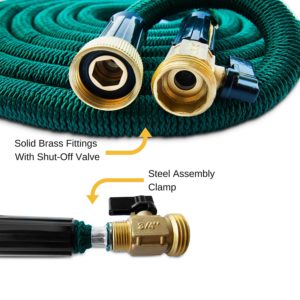 The expandable hose has become increasing popular and so has the metal hose.
So, which one is better?
Both have some pretty cool features that make them a lot different than a traditional garden hose.
They are both much more lightweight and both are generally less expensive, making them a much more popular option.
The Bionic steel weighs about 3 lbs for 25 feet of hose, which is VERY lightweight.
Tear Proof
The best part about the new metal hoses is that they won't tear, puncture, rupture, break, etc.
Usual mishaps with my garden hoses consist of small puncture marks and severe kinking.
I can see the metal garden hoses becoming the most popular of all garden hoses because you can't pierce them!
This is only the first year that these hoses have come out and they are getting really popular.
I can see them becoming even more popular as time goes on.
Complaints?
As usual, I always love to click on those 1 star reviews and see the horrible things people are saying.
The biggest complaint with EVERY garden hose is leaking and kinking.
I try to tell people that every hose can do this if you don't take care of it properly.
For the Bionic Steel the complaints were about leaks and kinks and a few shipping complaints. One person got a hose with two female attachments on both ends, which is a bit odd.
Also, complaints of the hose arriving damaged. If this happens, they will send you a new one if you take pictures.
Hose materials - Stainless Steel

Length – 25 / 50 / 75 / 100 Feet

Weight – 3 lbs per 25 ft.

Complaints? Leaking and Kinking, as well as S&H.

Warranty – 45 Days Money-Back and 12 Month
Summary
Certainly the #1 pick for metal garden hoses this summer. We will see if this trend of metal garden hoses continues, I think it will. These new hoses are really pretty cool and they will continue to become more and more popular.
Conclusion
Overall I'd say this is the best constructed metal garden hose out for 2023. It's the most reasonably priced and has a ton of positive reviews – including mine.
I haven't suffered any leaks (yet) and I've learned how to prevent kinking, which is actually pretty easy once you know how.