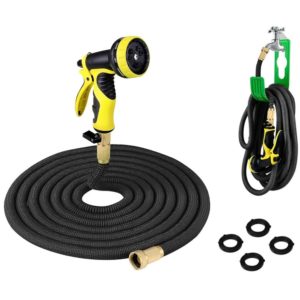 If you're looking for a very high quality expandable hose then this is the one. The exterior fabric is made of very high quality polyester and compared to many other garden hoses this one is superior.
The next thing you can notice that is very high quality is the hose nozzle. While not as good as some of the best hose nozzles, it is one of the best that you can get for free. Like many other expandable garden hoses this one expands to over 3x its original length once filled with water.
The hose nozzle has 9 different spray patters, which is more than most nozzles included with expandable hoses. If you have a car to wash, a fence to clean or a hard to reach far away spot you can handle it with this nozzle.
The other thing that I like about this one is that it comes with a hook to hang over your faucet. Once you're done using your garden hose you can simply carry it over to the hook and hang it up.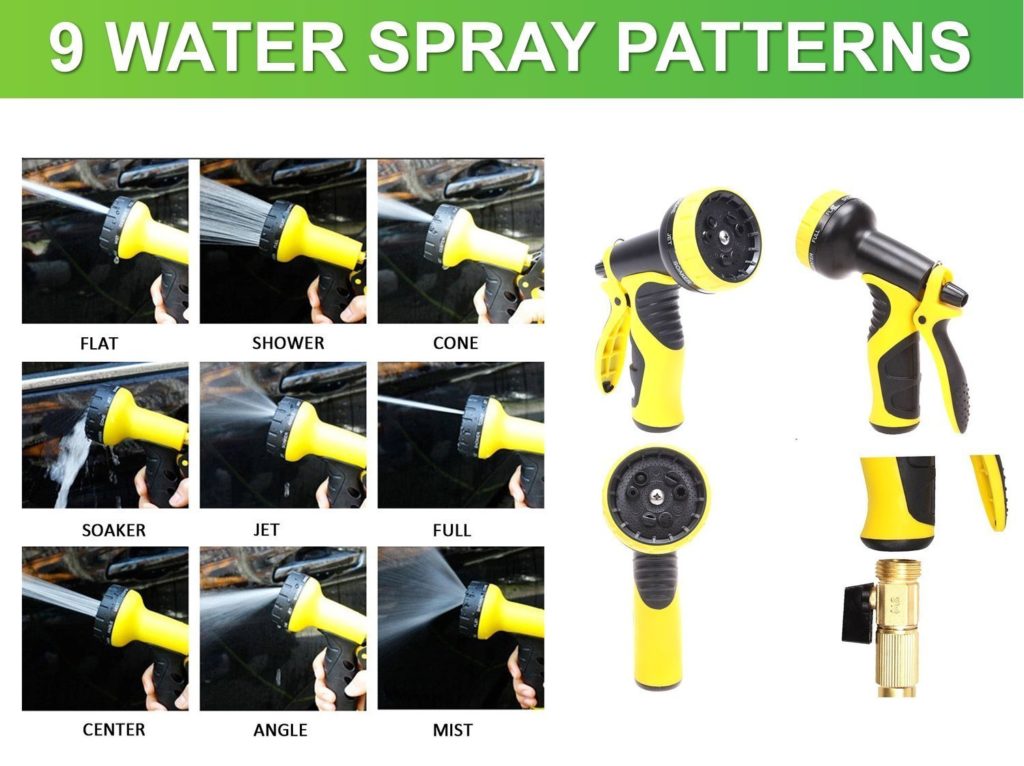 The hose is simple to install and takes about a minute to attache it to your hose nozzle and then just turn on the water. You will watch as it fills up with water and expands to 3x it's length. This is great to watch for the first time and people are always surprised by how this works.
For those that might not know, they interior is made of surgical tubing made of latex. Good Latex will expand to over 10x it's normal length but if you were to do that it will easily burst.
The exterior of the latex tubing is coated with a polymer that prevents it from expanding to it's full length in order to make it more durable.
100% Natural Latex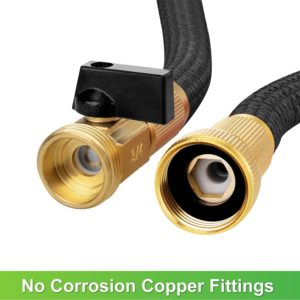 Many of the top expandable hoses currently use synthetic latex, made from byproducts of oil and petroleum. You want to try and stay away from these because they can damage your garden and be unsafe to drink.
The PLUSINNO is made of natural latex and has 3 cores. This means that the interior latex core is surrounded by two other layers of polyemer to protect it. Generally you have these layers to protect from UV damage and puncturing the thin layer of inner latex tubing.
The metal garden hoses do a better job of protecting from UV but this one seems to do a pretty darn good job too.
Although it does say that it's not intended to drinking from the hose, I can't tell you why they say this if it's made of natural latex?
Various Colors – Black, Red, Green, Yellow
The PLUSINNO is one of the only expandable hoses that comes in a variety of colors. If you're looking for something other than green or black, which is the main colors they use you can get it here.
This is one of the reasons I like this hose so much, I like to be able to choose the color I want and many garden hoses only come in one color.
Various Sizes – 25FT, 50FT, 70FT
You can choose from three different sizes, which is also great. A lot of other hoses only come in one or two sizes by default but with this one you can choose from 25, 50 and 75 feet. If you're looking for 100 feet or longer you can always use a hose connector to connect two or more  hoses together.
 Solid Brass Fittings
Like most expandable hoses this one has solid brass and copper fittings that prevent from rust and corrosion. Simply attach it to the faucet and you're good to go. They will also connect to other garden hoses using an adapter.
PLUSINNO Expandable Garden Water Hose Rating
Hose materials - Latex Interior with High strength polyester outer

Length - 25 / 50 / 75 Feet

Hose Nozzzle - 9 pattern spray nozzle

Solid brass fittings - solid brass connectors with shutoff valve

Warranty - 12 MONTH MANUFACTURERS WARRANTY

Complaints? -Leaking
Summary
For the most part this expandable hose works as advertised. They are not very specific regarding the inner workings of this hose. The material is somewhat of a mystery. It can be a bit difficult to expand all the way without a lot of water pressure. If you don't have very high water pressure it won't expand to the full length. The hose is very good quality and doesn't leak or kink. The hose nozzle is great and the price is great as well.