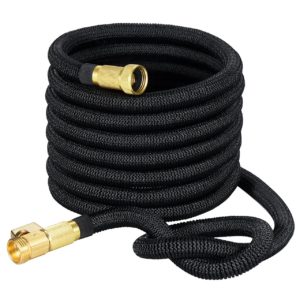 The VicTsing expanding hose is an Amazon best seller and one of the best expandable hoses. What makes it different than all of the other you may be wondering?
The VicTsing is 100% natural latex, which means that it's a lot safer for watering your garden and drinking. Many of the expandable hoses are synthetic latex and are unsafe to drink. Like all expanding hoses this on expands to over 3x its length when water flows through it.
This is one of the only expanding hoses that doesn't include a hose nozzle. For this reason the garden hose is less expensive than many and if you need a hose nozzle you can always buy one separately.
I find it weird that many of the expandable hoses include a hose nozzle because they aren't very cheap. The metal garden hoses as well don't come with hose nozzles which makes me a little mad.
It's fine that this one doesn't come with a nozzle because it has a nice brass fitting on the end the controls the water flow.
It weighs in at about 2.5 pounds and the exterior allows for some serious flexibility. It's made of a special polyester fabric that's a bit different than many.
The bad thing about this fabric is that if you leave it in the sun for too long it may start to fade. This can happen with most of the best expandable hoses and that's why when you're finished you should always hang your garden hose on a hook.
Since they are so light you can easily pick them up when you're finished.
The connectors and made of solid brass and this is common with most top quality garden hoses. It also included a 12 month replacement warranty if it happens to break in 12 months you can replace it for free.
Many people seem to rupture their hose in the first 12 months and then get a replacement. If you want a more durable hose and are tired of having leaks and holes then perhaps a metal garden hose would be more to your liking.
No matter now durable the interior latex or exterior fabric is, if you don't take care of your garden hose you will have problems. There are simple steps you can take to care for your garden hose that will help improve the life of it.
If you do this you will be very happy and not need to replace your garden hose anytime soon.
VicTsing Expanding Hose – 100% natural latex core Rating
Hose materials - 100% 2-layer Natural Latex Core with High strength polyester outer

Length - 50 Feet

Hose Nozzzle - 9 pattern spray nozzle

Solid brass fittings - Solid 3/4" brass connectors

Complaints? -Leaking, Smaller than advertised, Leaks at faucet

Warranty - 45 Days Money-Back and 12 Months Warranty
Summary
The VicTsing Expanding Hose is the #1 Best Seller on Amazon, so I thought I would do a review and see what we could find. This hose has many complaints about leaking and kinking, which is rare when it comes to expandable garden hoses. It's also smaller than advertised if you don't have enough water flow it will only grow up to 20-30 feet, according to some reviews. The best thing about this hose is that it uses 100% all natural rubber latex which is safe for you to drink. Other than that it looks like a poor choice for a replacement or first time user. They do offer a 45 day money back guarantee, which is good if you don't like it or it breaks.