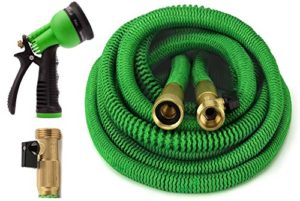 This expandable hose is an Amazon best seller, so I thought it would be worth it to take a closer look. What makes this expandable hose so different from the others I was wondering? To be honest, many of these expandable hoses are purchased from China and repackaged with a different name.
You will find that many of the inner tubes are bought in bulk and then and exterior fabric is placed over it. This seems to be true as well with the new metal garden hose. Therefore, you can purchase a less expensive no brand name model (like this one) and it may be just as good as a brand name one.
This is another expandable hose that I did not purchase but after reading all reviews I might consider it for a gift. The 100 foot design is a bit unique as most of the expandable hoses are 50 feet or less. One of the things that changes with each expandable hose is the quality of the hose nozzle.
If you are looking for the best hose nozzle then you're not going to get it included for free with your expandable garden hose. Like many of the garden hoses it comes with solid brass fittings and this helps to prevent leaks and fusing to the nozzle.
Most of the garden hoses use solid brass fittings, so that's good.
What's not good about this hose? After looking at the negative reviews there were complaints about leaks and rupturing after a couple of months. This can happen with any garden hose if you don't take care of it properly. This complaint can be overlooked.
The biggest complaint most people have with garden hoses is kinking and possibly overpaying for a hose that they can get for cheaper. To be honest, this one may be a bit expensive for many but because it comes in a length of 100 feet it is worth it.
It's made of high quality triple layer latex. Many of the top expanding hoses come with two layers and the added layer makes it more resistant to damages. The hose nozzle is an 8 setting spray pattern with the following settings: Flat, Cone, Soaker, Full, Angle, Shower, Mist, and Center. This is great and will accommodate just about any needs you have.
The product has not been tested yet for drinking water safe and since it doesn't specify natural latex I would have to assume that it's synthetic latex.
This means that you should probably not drink it. So, if you're looking for a good expandable hose then this is one with over 800 reviews and many happy customers.
GrowGreen ALL NEW 2017 Garden Hose Rating
Hose materials - Latex - Not very specific on materials used.

Solid brass fittings -

Length - 50 / 75 / 100 Feet

Hose Nozzle - 8 adjustable patterns

Warranty - 12 MONTH MANUFACTURERS WARRANTY

Water Pressure - Normal operating water pressure 43.5-87 PSI

Complaints? -Leaking, not a very powerful stream
Summary
The description for this hose is not very specific on the materials used. It says, 'latex' which could mean natural or synthetic. It also doesn't specify if it's one or two or 3 layers of inner latex tubing. The reviews were good for this hose, with over 800 reviews and many of them positive. It has a good PSI rating and comes in a few different colors with a length up to 75 feet. The price is good and maybe that's why it's so popular.